GNU Freedom and Just For Fun!
17/11/2016 @ 7:30 pm

-

11:00 pm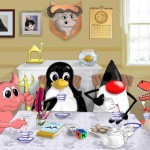 Another year and so how did we get here?…
There are various stories of how a renegade can change the world, or for how a small number of unknown people and their ideas accidentally come together to unexpectedly forge great change. Perhaps someday, we will have a similarly romanticized or GNU/Linux-super-hero style film made for two unassuming real world heroes stirring a new revolution of the cyberworld as we know it: GNU & Linux, and their founders Richard ("rms") Stallman & Linus Torvalds.
There is far too much story and surrounding happenings to cover in an evening. There is a world of politics and commercial 'happenings' surrounding GNU/Linux that could become a University subject all to itself. Richard Stallman & Linus Torvalds, like it or not depending upon your view, have undeniably greatly 'disrupted' the world of normal business.
Instead, much more fun for the evening is to enjoy a fun personal review of two books that I consider give a good introduction to the highly contrasting qualities that has FREELY (free-libre) GIVEN us all GNU/Linux and the very practical and world positively disruptive promotion of FLOSS. We certainly can't Trump the politics! However, the books are fun! 🙂 Indeed, there are far too many amusing quotes from such rich sources to cover for the evening… 😛
For those reading ahead, see:
As Richard Stallman would emphasize, the details given this evening are non-technical and give a good introduction to new and old alike. We will sample some of the what and the how and why we even have any software that we can honestly freely use for ourselves.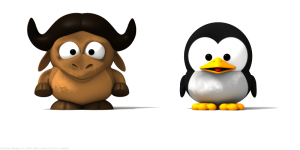 As always, all are welcome.
Just look for the friendly penguins 🙂
A few fun links and quotes
Yep, there really are Linux Movies! (LinuxMovies is published by Gosh!TV)
Two films that make for compulsive viewing and that are scarily still very relevant today:

REVOLUTION OS (Main site, Amazon DVD, YouTube, YouTube (multilingual), Wikipedia article)
The Code – Story of Linux (Main site, Amazon DVD, YouTube, Wikipedia article)

Note also The Cathedral and the Bazaar (see Wikipedia), an essay by Eric S. Raymond on the contrasts between the (corporate typical) top-down vs (FLOSS example) bottom-up approaches to putting the code together… Against the normal methods of working of the time, how can any FLOSS project ever possibly work?…
For a few fun quotes:
Just for Fun:

Oh fuck. If I kill this guy, I'll have millions of nerds on my case.
When Diamond took Torvalds body-boarding and saw him struggling with leg cramp in the whitewater.
My personal opinion of Mach is not very high. Frankly, it's a piece of crap. It contains all the design mistakes you can make, and even managed to make up a few of its own.
Torvalds comments upon meeting Steve Jobs and Avie Tevanian discussing the soon-to-be Mac OS X
You see. I don't think any new thoughts. I think thoughts that other people have thought, and I rearrange them. But Sara, she thinks thoughts that never were before.
Torvalds to his mother, about his sister
Most days I wake up thinking I'm the luckiest bastard alive.
Linus Torvalds
I'm personally convinced that computer science has a lot in common with physics. Both are about how the world works at a rather fundamental level. The difference, of course, is that while in physics you're supposed to figure out how the world is made up, in computer science you create the world. Within the confines of the computer, you're the creator. You get to ultimately control everything that happens. If you're good enough, you can be God. On a small scale.
Linus Torvalds

Richard Stallman:

GNU, which stands for Gnu's Not Unix, is the name for the complete Unix-compatible software system which I am writing so that I can give it away free [libre] to everyone who can use it.
In 1971 when I joined the staff of the MIT Artificial Intelligence lab, all of us who helped develop the operating system software, we called ourselves hackers. We were not breaking any laws, at least not in doing the hacking we were paid to do. We were developing software and we were having fun. Hacking refers to the spirit of fun in which we were developing software. The hacker ethic refers to the feelings of right and wrong, to the ethical ideas this community of people had — that knowledge should be shared with other people who can benefit from it…
The use of "hacker" to mean "security breaker" is a confusion on the part of the mass media. We hackers refuse to recognize that meaning, and continue using the word to mean someone who loves to program, someone who enjoys playful cleverness, or the combination of the two.
I figure that since proprietary software developers use copyright to stop us from sharing, we cooperators can use copyright [as "copyleft"] to give other cooperators an advantage of their own: they can use our code.
The term "free software" has an ambiguity problem: an unintended meaning, "Software you can get for zero price," fits the term just as well as the intended meaning, "software which gives the user certain freedoms."
Spreading the idea of freedom is a big job — it needs your help…
And for a few fun quotes from those films: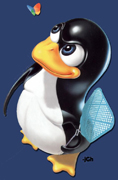 I bumped into him (Craig Mundie of Microsoft) in an elevator. I looked at his badge and said, "Ah, you work for Microsoft."
He looked back at me and said, "Oh yeah, and what do you do?"
And I thought it was some kind of tad dismissive, here is a guy in a suit looking at a scruffy hacker… so I gave him a thousand yard stare and said, "I am your worst nightmare!"
— Eric S. Raymond
Giving the Linus Torvalds award to the Free Software Foundation is sort of like giving the Han Solo award to the Rebel Fleet.
— Richard Stallman
… and I realised he (Steve Ballmer) had read my document and understood it, and was now telling the press about this. Now, if you're like just a guy on the net who's not doing this for a job at all and you sort of write a manifesto and it spreads out through the world, and a year later the Vice President of Microsoft is talking about that, you'd think you were on drugs, wouldn't you? But that's what really happened.
— Bruce Perens
Think of Richard Stallman as the great philosopher and think of me as the engineer.
— Linus Torvalds
Late breaking news for discussion:
Very timely for our talk, has Eric's thousand yard stare come to pass? The Register reports:
Microsoft just got its Linux Foundation platinum card, becomes top level member
Microsoft has joined The Linux Foundation as a Platinum member, the highest level of membership. The news was announced at the company's Connect developer event in New York.

The Linux Foundation is a non-profit trade association which supports and promotes the Linux operating system and related projects, including Node.js, Xen virtualisation, IOT projects and open standards for containers. …

… The news is notable further evidence of Microsoft's move towards being a provider of cloud infrastructure and services, rather than a Windows company. Microsoft once saw Linux as a threat to its business; in 2001 then-CEO Steve Ballmer called Linux "a cancer" because of concerns over the impact of the GNU GPL open source license on intellectual property.

That was then. Now one-third of the virtual machines (VMs) in Microsoft's Azure cloud run Linux… The Azure Container Service currently supports Linux but not Windows containers…

… Microsoft has also ported [MS] SQL Server to Linux… Packages are available for Red Hat Enterprise Linux, Ubuntu Linux, and SUSE Linux Enterprise Server.

There will still be some tension around Microsoft's involvement with Linux. On the Linux side, mistrust in the community will make some contributors wary, while on Microsoft's side there remain many areas where Windows and Linux are in competition…
Two very apt comments to that follow on in true The Register comments style:
Mikel


Re: Great news!

"Really, I'm not out to destroy Microsoft. That will just be a completely unintentional side effect." – Linus

Bonus: "If Microsoft ever does applications for Linux it means I've won." – Linus

Mr Flibble


Re: Embrace…

Embrace:: choosing to support Linux-based OSes on Azure.

Extend: the Hyper-V client code in the kernel.

Extinguish: have they given up?
… The TechRights site gives a highly circumspect view of the Microsoft announcement with: "Making GNU/Linux work the 'Microsoft way' so as to give Microsoft greater control".
Another brief summary is given by Tux Machines with "Translation of the Latest 'Microsoft Loves Linux' Charm Offensive". One apt quote from there is:
… There is a lot of Microsoft PR inside the news/media right now … and it's coordinated (sometimes in advance, based on what we learned yesterday) by Microsoft… the raw PR, which is intended to sometimes (it doesn't always work) mislead the reader, having misled the writers/journalists.
All just for fun?!… 😉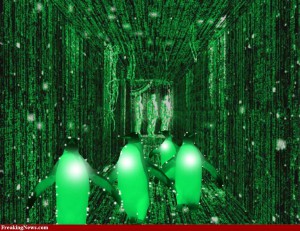 1 comment to GNU Freedom and Just For Fun!